by Molly Young Brown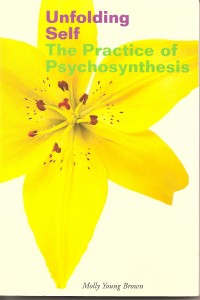 Unfolding Self is a complete guide to the principles and techniques of psychosynthesis–a holistic approach to personal and spiritual growth that combines various methods and principles of Eastern and Western psychology.  It provides a comprehensive introduction to practicing in this growing field, from theoretical concepts–such as awareness and will, "I" and Self, integration of the personality, and spiritual awakening–to methods and techniques for conducting psychosynthesis sessions with clients.
Each chapter features exercises that readers can use for themselves and with clients.  A helpful appendix provides transcripts of two psychosynthesis sessions (with commentary), a glossary, and a reference list for further study.  Counselors, life coaches, teachers, and spiritual guides will find this book invaluable in nurturing their clients and students, and themselves, toward greater health, creativity, and fulfillment.
An original and substantial contribution to the field of counseling and psychotherapy.  The author has succeeded in taking the quintessence of psychosynthesis and applying it, living with it, in her own unique style. ~ Peter Roche de Coppens, Ph.D., East Stroudsburg State College, Pennsylvania


Allworth Press, 2004. $20


To order this book in the USA, please click the following link
To order this book through online booksellers around the world, please click the following link to go to this book's page on  Global-Find-A-Book.