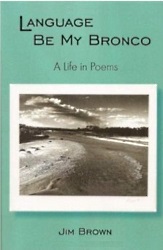 Language Be My Bronco A Life in Poems by Jim Brown Language Be My Bronco offers 75 poems in honor of Jim's 75 years in this incarnation, reveling in eloquent and precise language that illuminates moments, people, places, ideas, insights, and wonder.
Psychosynthesis Press, 2012.  ISBN 978-09611444-9-4. $15

From Ana Holub, poet and author of The Edges Are Friendly:  Jim Brown writes with elegance, sharing his love and shamanic knowing of the spirits of lake, mesa, mountain, sky and evergreen.  He shares his poet's vision of mystical dream states, inviting us to discover what our own spirit world might be."  Beth Beurkens, Shamanic Practitioner and poet, author of Shaman's Eye. "This collection of poems from Jim Brown's life-long engagement with language is full of surprises and vivid moments. Some of the poems move downward and inward along faint trails–seen or imagined–toward "moon-abetted mystery". Some are tough-minded reality checks. Others are romps amid playful language. Throughout, he reminds us that keen attention and exact language are the best snares humans have for inspiration and insight. – Charles Goodrich, author of Insects of South Corvallis, The Practice of Home, and Going to Seed: Dispatches from the Garden. "Jim's poetry evokes the rich distillation of his life thus far: quirky musings, explorations into being a true man, wisdom. Thanks for loosening your casing, Jim, and considering "the possibility of having a blast." I loved being along for the ride.
From Tim Burns, Santa Fe NM.   I'll be honest here: Jim Brown has been a dear friend and professional colleague of mine for nigh 40 years now. Over that long span of years I've had the great, good fortune of reading and feeling enriched by his finely crafted poetry. In fact, some years ago I recall saying to him that he was most definitely in my pantheon of poetic gods, sharing company with other contemporary poets that include Gary Snyder, Maryann Moore, William Carlos Williams, Sharon Olds, Mary Oliver, Jim Harrison, Red Hawk and others. His poems are that good. So it was with great pleasure and anticipation that I learned that–finally!–Jim's poems would be coming out in book form. Language Be My Bronco: A Life In Poems captures a fully lived, longish (a poem for each of his 75 years!), and adventurous life, Brown reveals himself to be a consummate observer and seasoned reporter of life's many occasions and offerings. There's an unforced universality that makes these poems so compelling and engaging. Who cannot relate to themes of love and loss, longing and laughter, set mostly amidst the stunning landscapes of the Southwest and Northern California throughout the four seasons? I am reminded, in reading these poems, of what some wise person once said about the deeply reflective questions often asked by those on the threshold of death: Did I live fully, love well, and learn to let go? These important, universal themes shine in many of the poems. The layout of the book reveals a mindful attention, from the introductory remarks concerning aspects of his poetic vision and purpose, to section headings which cleverly capture (by use of a partial quotation from T.S. Eliot, Shakespeare, Three Dog Night, Cream and other notables) the essential aspect of each phase of the journey. As for the poems: A rich mix of memory, dreams, and reflections, they are offered in painterly fashion from a palette which includes hues ranging from somber and elegiac to playful and laugh-out-loud funny. Together, the poems form a mighty fine canvas. Language is indeed Brown's bronco, much to the reader's–and this old friend's–good fortune.
From Linda Webb, Mount Shasta, CA  Thoughts deep and wide, expressed clearly. Feelings high and low, very relatable. Imagery that is rich and unique, yet comes alive vividly to me, with no struggle to understand where we're at or where we're going. With one exception, and that is the title poem, which is so fully packed with metaphors about Language seen as a horse to ride through "sage thought thickets," that it took me multiple, slow, readings. And then I loved it, for the colorful moving pictures it created in my mind. The book feels welcoming and open-hearted, comfortable, bringing me easily into all the realms of the poet's life. That life has been long, and the wisdom speaks, yet the atmosphere is joyful, vigorous. Nothing hifalutin, nothing straining to impress. Brilliant thoughts in simple words, sometimes humorous, sometimes serious. Very accessible….even my dear significant other, who "can't understand poetry," enjoyed several that I picked out especially. I also appreciate that the book is very affordable. Thank you, publishers. I'm purchasing another copy for a birthday gift.
From Michael McMahon, Portland OR  "Language Be My Bronco" be aptly titled. It is a wild ride; a ride on the back of language and dream-scape and into the wild close to home. These poems are at turns deep, playful, multifaceted, and quixotic. They are damn-near-trickster-like contemplative word mandalas of a long life well lived. The poems embody a life-long love affair with language and inquiry into the inner workings of mind. And yet, they remain solidly rooted in the ground of their making. Images from dreams and a walked through landscape merge into a coherent map, a cartography of inner and outer experience in poems. I found myself relishing the experience of these poems, some triggered my own inner urges towards solitude and contemplation while others sent me on wild jags through my own memory. It is a rewarding read to be sure.
From Francine Foltz, Albany CA  This poetry describes landscapes and people, and moves from Texas to New Mexico, Colorado, and northern California. The tone is both playful and well-informed, a sort of cowboy scholar. The 75 poems fill an average of a page each, in a multitude of different forms. In the longest of the poems, one dream-filled night is so vivid that it rivals reality. Mostly. the landscape stars, as it does with Gary Snyder, but the acknowledged influences are balanced between beat and haiku. Altogether, it is the distillation of a life rich with inner adventure.
From Susan Scott, Whidbey Island, WA  Language Be My Bronco is more than a life in poems, though Jim Brown's poetry definitely exemplifies a life that is beautifully lived, also that is thoroughly, lovingly, and gratefully lived. What seems `more' to me is the love from which every bit of his life emanates. Maybe that's why I carry this book of poetry with me. Having it as my companion, opening to any page, I am invited to savor, reflect on, and celebrate life as our chance to love. Thanks to Jim Brown, we are inspired through the gift of his poetry 'to go for it' all, too.