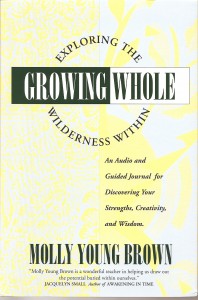 Growing Whole:
Exploring the Wilderness Within
by Molly Young Brown
Bridging Personal and Global Transformation
"We can acquire new skills for mastery and creativity in our world. We can more fully love and enjoy living. We can build more nurturing relationships, and move toward greater harmony—personally, socially, and spiritually—with our planet." ~ Molly Young Brown
Growing Whole: Exploring the Wilderness Within supplements Growing Whole: Self-realization for the Great Turning,  highlighting the amazing possibilities you possess as a human being. A 60-minute MP3 file (CD also available) together with a study guide for journaling help you recognize your strengths and discover how your inner resources—wisdom, love, and will—can improve your life and contribute more to your community. Listening to the MP3's guided inner dialogue and meditative exercises (in the author's voice), you explore your inborn gifts and move beyond your blocks. Topics include: developing your self-awareness, strengthening your center, recognizing your talents and life potential, and understanding how your "will"—your power to choose—is a central force within you.
Exercises include: Checking In; Who Is Aware?; Acceptance; Self-Identification; The Wilderness Within; The Wise Being; Seeking a Loyal Soldier; Meditation on Good Will; An Experience of Transpersonal Will; Letter from Self.
This item replaces the CD and journal package by the same title,  a few copies of which are still available by special request.
Psychosynthesis Press, 1997. ISBN 0-9611444-2-4
Available only through this web site.
MP3 file with study guide PDF (combined into a single Zip file).
Price:  $16.00. Digital download purchase available here.
After your PayPal payment is complete, please click the link
on the payment page that takes you back to Psychosynthesis Press where you will find a download link.


Please
contact
us if you have any trouble downloading this item after purchase.
Volume discounts available.
---
"I led myself through Molly Young Brown's Growing Whole: Exploring the Wilderness Within.  I did not experience myself as too educated in psychosynthesis to reap the benefits of the journey this journal took me on. It was a refreshing presentation of psychosynthesis process. Thanks, Molly, for your ongoing genius in this research into Soul. ~ Judi White